One may be asking "Why is he reviewing a phone?  Isn't that what CNet is for?"  Well, here's the thing.  I've been an Apple fanboy for a very long time, and as far as MacBooks go that's probably not going to change any time soon.  That being said, that the iPhone is an underwhelming audiophile device cannot be overstated.  They've deleted the 3.5mm jack, but have not bothered to upgrade their Bluetooth Codex to AptX or AptX HD, and to my knowledge have never entertained the idea of hi-res streaming off iTunes.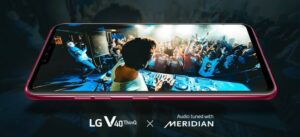 What were we to do?  There are a few workarounds; specifically, I used a hi-res app from Onkyo called HF Player, then through the lightning port used a camera connection kit (CCK) cord to attach an AudioQuest DragonFly Red dongle-DAC/HPA.  The sound of this setup was pretty darn good, and worked well for travelling.  Then, during one of the iPhone updates, it stopped supporting the relatively slim CCK cord, forcing one to upgrade to a much bulkier connection that for some baffling reason had a full-size SD card port in addition to a USB.  Not so sleek anymore, back to the days of dongle-DACs that made the user look like a high school AV club reject (Think Geek Out with flesh-melting temperatures.)
So, taking the advice of some of my friends, I finally took the plunge and decided to switch to Android.  In truth, this wasn't such a big deal since I never used my iCloud account and use Gmail almost exclusively, especially for the calendar and reminders to try and keep my hectic work and home life in sync.  Much has been written about Android's open platform, and while Samsung is the king of Android sales, LG has carved out a very nice niche by offering intense camera options as well as legitimate audiophile-grade hardware.  The last three or four LG releases like the V30, the G7 ThinQ, and the G7 One have sported 3.5 mm plugs, upgraded DACs, beyond two channel sound, and support for many hi-res formats including MQA.  For me, that's a trifecta that couldn't be ignored.  With all Android products recently becoming compatible with Roon/Tidal Masters, I was really looking forward to exploring this new format.
Features joker123
The specs of the V40 ThinQ are impressive to say the least.  It sports a Qualcomm Snapdragon 845 2.8GHz octa-core processor, and either 64GB or 128GB built-in storage with a micro SD card slot that will accommodate a 2TB (WOW!) card.  I have about 14k Redbook and hi-res files, and I think that takes up about a 40% of my 2TB NAS hard drive.  The official LG specs list a mysterious "Quad DAC," but no mention of brand or details.  Historically in the V20 and V30, the chips turned out to be ESS 9218p SABRE.  In ESS's own words,
"The ES9218P HiFi SoC leverages the company's patented 32-bit HyperStream architecture that can support up to 32-bit 384kHz PCM and DSD256 to deliver up to 130 dB SNR and -114 dB Total Harmonic Distortion plus Noise (THD+N) ensuring audiophile quality sound all the way to the headphones. It also supports the industry's most popular high resolution and lossless audio formats including DSD, DoP, FLAC, ALAC, AIFF and WAV."
In addition to the ESS SABRE DAC upgrades, there are some additional software improvements that audiophiles will appreciate.  The V40 incorporates a DTS:X 3D surround sound mode that works very well while watching 4K video content on the device's 6.4-inch OLED screen, and also organically meshes with newer 3D headphones like the Audeze Mobius.  LG also collaborated with Meridian Audio on this project in order to fully maximize the device's audiophile potential.  When not using the 3.5mm output, one can take advantage of the device's excellent Bluetooth streaming capabilities; it supports Bluetooth 5.0, LDAC, AptX, and AptX HD.  With my Audeze Mobius wireless headphones, this combination may be the best wireless experience I've ever had. buy dnp online
Sound pussy88
I really wanted to push this device when testing its capabilities, so ended up going for some music that I felt confident would uncover any shortcomings.  Scrolling through the Tidal Masters app, I came across Weezer's newest release, unofficially named the Teal Album.  This tongue-in-cheek work is Rivers Cuomo's send-off to his favorite 80's music, all those guilty pleasure pop anthems from your favorite Columbia House cassette club or late-night Razor & Tie CD infomercials.  Don't deny it, you love this stuff too.  I've seen you silently rocking out to "The Final Countdown" behind the wheel of your Honda, head-banging and air-drumming millimeters from several thousand psi of airbag propellant and caustic flame-retardant powder.  Safety Last! (Note Rivers is playing bass and Weird Al is on lead:))
http:/https://www.youtube.com/watch?v=mk5Dwg5zm2U
Anyway, Weezer & Co. do a fantastic job of gleaning their favorite sing-alongs and being faithful to the soul of the songs, reminding us of why we fell in love with them in the first place.  Rivers' cover of the anthemic Tears for Fears song "Everybody Wants to Rule the World" does the original song great justice, and highlights Roland Orzabal's fantastic songwriting skills.  Listening to this track through Tidal Masters MQA to my MrSpeakers Aeon Flow closed-back planar magnetic headphones transported me to the closing credits of another 80's classic, Real Genius.  We all know where Val Kilmer ended up, but whatever happened to Gabriel Jarret?  Anyhoo, The sound from Tidal Masters through the LG to the cans was immersive, incredibly detailed, and spectacularly emotive.  I was just warming up and was already extremely impressed.
On the other side of the "easy listening" spectrum came another new-to-MQA album, the pivotal early 90s grunge album Pork Soda by Primus.  By any standard, Les Claypool is a bass virtuoso, but the atonal nature of the Primus sound can be difficult to listen to at best and room-emptying at worst.  That said, the Claypool's bass will push the limits of your system and easily reveal any low frequency flaws.  A classic Claypool cacophony "My Name is Mud" was my go-to track for a frequency-sweeping ear bleed.  I don't know what the note or Hz that his opening bass triplet is, but it feels like negative 10 Hz, played on a long scale Alembic uber-bass and designed to create violently nauseating ULF sickness that the Cubans would secretly love to aim at the American Consulate.  Trust me when I say it is a revealing track.  When played through the LG into my Sennheiser HD700s, I was shocked that the bass held up in an open-back dynamic driver configuration, showing no sign of break-up or flabbiness.  Once I confirmed the LG's performance, I promptly decided that three minutes of Primus was enough for one day.
http:/https://www.youtube.com/watch?v=953PkxFNiko
A final test of the LG's audio prowess was not specifically geared towards two-channel audiophiles, so bear with me.  The Bluetooth LDAC support is a perfect match for Audeze's new wireless Mobius headphone.  Initially designed for PC gamers, the Mobius has 3D, Dolby 7.1, and head-tracking support.  This tech begs to be used for not only FPS gaming, but for any recent release 4K action movie.  My two young boys have become fascinated with dinosaurs, and have forced me to watch the first twenty minutes of Jurassic World many times, and then declaring that it's "too scary."  So, since I didn't want them to have permanent nightmares, I finished on the LG through Amazon Video while listening with the Mobius cans.  This is truly an excellent experience, very immersive, and something that any audiophile should attempt at some point, in order to see what can be done when branching out from strict two-channel stereo products. xe88
I can't say enough good things about the LG V40 ThinQ's musical performance.  Sure, it will take me a while to get used to the Android menus after being an iPhone guy for eight or ten years, but I think it's a small price to pay for the gain of a legitimately top-tier digital audio player.  I no longer have to worry about dongle-DACs or fussy third party apps.  The V40 ThinQ may be the last DAP you ever need, and certainly hints that the days of people paying $3000 for an Astell & Kern may be numbered.  Do yourself a favor and try the LG out and decide for yourself.  As for me, I'll be rocking out with this guy for the foreseeable future.