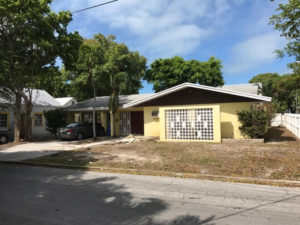 My family has grown exponentially in the past three years, with two sons under the age of three, two in-laws under the same roof, and three large dogs.  The house we bought when we first moved to Florida no longer can contain this circus, so my wife and I started shopping and finally bought a new house at the end of October.  The place is an absolute wreck cosmetically, but sound structurally, and is in a great neighborhood.  I thought this was the perfect opportunity for a complete overhaul of the electrical system in the house since all the sheetrock was getting ripped off, and perhaps document the process of taking a 1950s-mid-century modern Florida CBS ranch and turning it into the ultimate "Smart" home on as little a budget as possible.
There were a few reasons that we chose this house.  First, it was a one-story concrete house in good structural shape outside of the flood zone.  The one-story thing with kids will make our lives infinitely easier, and we have old decrepit dogs that won't have to climb stairs anymore.  Plus, since it needed to be totally gutted from an aesthetic standpoint, it was going to give me the opportunity to start from scratch with my master plan to combine a smart home with a killer audiophile room.  I also made the conscious decision to separate the TV room from the listening room (heretofore referred to as Lounge), as I've learned over the past few years that at least in my case, mixing those two systems can result in a recipe for disaster.  So, the TV and the 2-channel stereo will be in different rooms.
I'll give you a basic run-down of the 2-channel audio system and what will be in the lounge.  My speakers are Joseph Audio Pulsars, powered by a Vinnie Rossi LIO modular power supply/tube preamp/phono preamp/DAC/MOSFET amp.  My analogue signal is a Pro-Ject Debut Carbon with Ortofon 2M cartridge.  My digital signal is a Mac Mini and Time Capsule NAS running Roon to various endpoints.
As for the "Smart Home" system, I decided to go with Amazon Alexa products, including a few Echo Dots, The Nest smart thermostat, Nest security cameras, and Nest Smoke/Carbon Monoxide detectors.  I'm also hoping to integrate a Control4 Lighting system, but that remains to be seen.
So this won't devolve into a personal blog but remain firmly focused on audiophilia, I'll try to document in stages over the next six months how I set up the perfect smart home without spending a bundle.  (I've already bought the 2-channel audio stuff so let's not count that here!)
After closing on the house on October 20th, we spent about eight weeks gutting it to the studs and planning the plumbing, windows, moving walls, kitchen, etc.  Once all the sheetrock was down and I discussed with the electrician, I elected to run RG56 coaxial cable and Cat6 Ethernet cable to each room in the house.  We have very spotty wifi reception in my current house, and this way the kids can either use wifi or set up an Ethernet router in each of their rooms should they choose.  Plus, when bought in bulk, 1000 feet of Cat6 cable was <$125 on Amazon, and I ran almost all of it to each of the four bedrooms, lounge, and living room.  Having the sheetrock ripped off enabled me to save some money and run the cables myself.  I've run plenty of coax in my life, and have the specialty tools to crimp terminals correctly, but have never done this with Ethernet, so that will be a learning curve at some point in the next few weeks.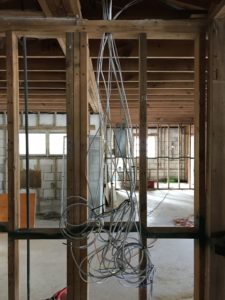 I have run all the signal cables to a central location which will be in a bedroom closet with nice open access to shelves that I will use for the Network Attached Storage, Ethernet Switches, Modem/Router, and a power supply.  One of the sage pieces of advice I can give others in advance is to color-code the wires going to each room (I did mine with zip ties.)  I'm hoping that will make for a more pleasurable hook-up experience.
The big picture will involve the two-channel audio system running through Roon and running various Roon endpoints through the house.  I will also be using the Echo Dots sent to some aptX Bluetooth enabled devices for ambient music, good for parties or background listening when I don't want to go to the trouble of booting up Roon and selecting a playlist etc.
Stay tuned on the next part of the project, which will be capping the signal cables and building the "Brains" cabinet with NAS, Ethernet switches, Router/Modem, and power supply.